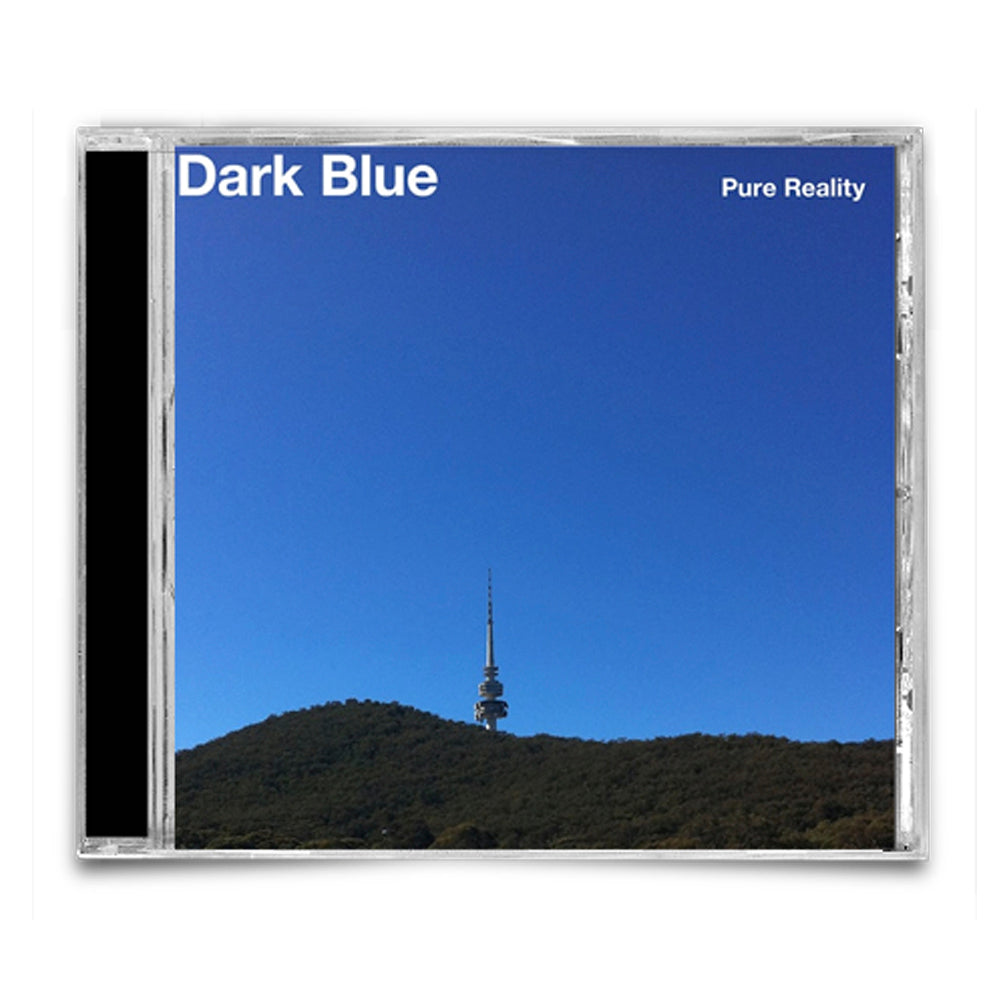 Pure Reality CD
---
Sharp on the heels of their debut single for the Jade Tree label, that Philadelphia super trio Dark Blue consisting of John Sharkey III (Clockcleaner, Puerto Rico Flowers) Andrew Mackie Nelson (Ceremony, Paint it Black, Puerto Rico Flowers) and Mike Sneeringer (Strand of Oaks, formerly from Purling Hiss, Puerto Rico Flowers) deliver the goods to the label in the form of their first full length; the eight song 'Pure Reality'. Recorded and produced by Jeff Zeigler (Kurt Vile, The War on Drugs, Sunny Day in Glasgow, Nothing).

'Pure Reality' began life while band leader Sharkey was working as a nightwatchman in Canberra, Australia. 'I refused to allow myself to get on the graveyard sleep schedule, so I would walk around in a shot-nerves psychosis every night patrolling a desolate university campus in north Canberra. A good portion of these songs were written in this walking coma at 4am under the cold ACT moon. Alone and to be quite honest, comfortably beleaguered.'

Jump ahead two years later and we find Sharkey returning to his hometown of Philadelphia to spiral into a highly disheartening culture shock; the fuel that makes the raging though austere songs that make up 'Pure Reality' what they are. 'Being thrust back into this fucking intellectual ghetto after a few years in solitude with some smart people has really done a number on my head. I hate my job, I detest my neighborhood and my neighbors. But this is the city that made me and I am forever grateful. Life is great then its shit, then it's fine and back again until it's done. I long to get back to a great part of my life.'

Musically, it retains the same grandiose delivery and burly, wide open guitar sound that was found on the earlier release by such U.K 80's bands as The Comsat Angels, The Stone Roses, Blitz and Australia's The Church. The combination of Dark Blue's sweeping, majestic sound and the deep desperation found in Sharkey's voice and lyrics is something that is matchless, harrowing and unrelenting. In other words, it's 'Pure Reality'.